Still working to recover. Please don't edit quite yet.
Alexander Berkman
From Anarchopedia
Alexander Berkman (Vilna, Lituania, 21 de noviembre, 1870 – Niza, Francia, 28 de junio, 1936) fue un escritor y anarquista ruso. [1]
Biografía
[
edit
]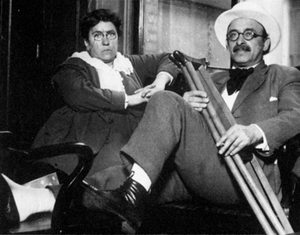 Hijo de un adinerado hombre de negocios judío, se quedó huérfano a los dieciocho años y decidió emigrar a los Estados Unidos, donde conoció a su compañera y amante Emma Goldman, una inmigrante rusa empleada en una fábrica téxtil.
Muy influenciados por las obras de Johann Most, Berkman y Goldman se implicaron en la campaña pro-liberación de los hombres apresados en el bombardeo de Haymarket. En 1892, Henry Frick, propietario de la planta de acero de Homestead, decidió frenar los intentos de huelga de sus trabajadores, lo que llevó a una lucha cruenta que acabó con diez obreros asesinados y sesenta heridos. Berkman decidió atacar este gesto e intentó matar a Frick, quien no murió y Berkman fue condenado a veintidós años en prisión.
Liberado en 1906, Berkman y Goldman encabezaron el movimiento anarquista en los Estados Unidos, publicando clandestinamente semanarios radicales como Mother Earth o Blast, y libros como Anarquism and Other Essays (1910) de Goldman o Memorias de un anarquista en prisión (1912) de Berkman. Tras varios incidentes y acusaciones, fueron deportados a la Unión Soviética durante el Miedo Rojo de 1917, pero tras la represión en Kronstadt se mudaron a Suecia, Alemania y finalmente Francia, sin dejar de denunciar al Gobierno soviético con sus libros The Bolshevik Myth (1925), Letters from Russian Prisons (1925) o El ABC del comunismo libertario (1929).
Berkman tenía una salud y una economía precarias, y acabó suicidándose el 28 de junio de 1936.
Enlaces externos
[
edit
]
Categoría:Anarquistas de Rusia
Categoría:Anarquistas de URSS Categoría:Anarquistas de Estados Unidos